Hyperbaric oxygen therapy, also called oxygen therapy involves the breathing in of oxygen in a pressurized chamber in which the atmospheric pressure has been increased up to three times the normal air pressure. The human lungs, under this condition, would receive up to nearly three times the amount of pure oxygen it would have received when breathing of oxygen is carried out at the normal atmospheric pressure. The Food and Drug Administration (FDA), the body that regulates the use of hyperbaric chamber has made clear the hyperbaric chamber's use for certain medical uses like treatment of decompression sickness suffered by divers. Body tissues require an adequate supply of oxygen to perform optimally. Therefore, when body tissue is injured, even more oxygen is required to survive. Hyperbaric oxygen therapy raises the amount of oxygen that the blood can carry. This increase in the amount of oxygen that the blood carries temporarily bring back blood gases to the normal levels and body tissues function effectively to fight off infections and enhance/promote healing.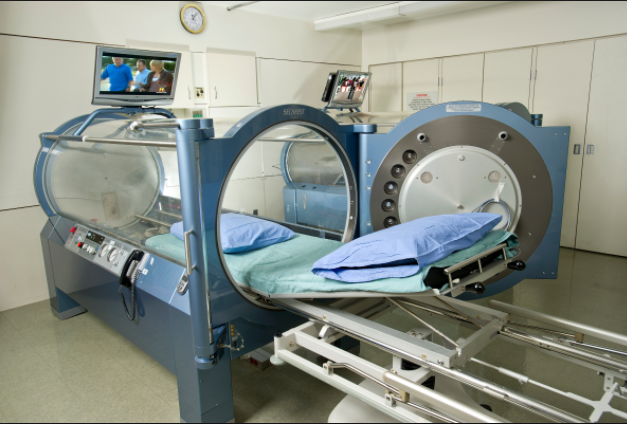 Hyperbaric oxygen therapy is performed typically as an outpatient procedure and does not necessarily require hospitalization. However, if you are already hospitalized and need hyperbaric oxygen therapy, you would either remain in the hospital for therapy or be moved to a hyperbaric chamber facility that may be separated from the hospital.
Depending on the type of hospital, hyperbaric oxygen therapy can be in any of these two settings:
An individual (mono-place) unit: a unit designed for just one person, where the patient lies down on a stretcher that slides into a clear plastic tube.
A multi-person hyperbaric oxygen room: a room designed to contain several people, which usually looks like a large hospital room, where patients either sit or lie down. Patients receive oxygen either through a mask over the face or a lightweight, clear hood placed over the head.
During hyperbaric oxygen therapy, the increased air pressure creates a temporary feeling of fullness in the patient's ears, however, this can relieve by either swallowing or yawning.
Tekna Hyperbaric chamber markets hyperbaric chambers. Our aim at Tekna Hyperbaric chamber is to ensure that this therapy is made available to everyone who may need its use, as well as to empower patients to utilize the Hyperbaric chamber to increase their functionality, health, and ability to enjoy life. We have hyperbaric chamber for sale, visit our website https://hyperbaric-chamber.comfor more details including hyperbaric chamber cost.